Showing your gratitude in B1G1
Gratitude Certificates in B1G1 are either emails or letters that you can send out to your customers, business partners, employees, your family or whoever else you would like to thank.
You can access them in your B1G1 account and we make it really easy for you too with some templates to start you off. Those are entirely customisable to convey your message and you can create as many of them as you wish. We've created a really quick video tutorial to get started too. You will see that you can choose between print versions and email versions. You can adapt your approach to your target audience.
Of course, emails are the most common form of communication so using an email Gratitude Certificate is sure to stand out AND put a smile on someone's face. But going one step further and sending something more tangible could really distinguish you from others.
For example, we frequently hear of cases where Gratitude Certificates found their way in a frame and now hang proudly on someone's wall.
So … to inspire you even more, we collected a number of really great Gratitude Certificates  used by B1G1 Members for you right here:
Examples of different ways of showing appreciation
There are so many different ways of saying thank you. Some of our B1G1 members are quite creative in their approach and we would like to share their ideas with you.
We hope they'll inspire you to find your very own way of showing gratitude that fits perfectly with your business.
Personalised email
Above and in our video tutorial you already saw that you can easily create Gratitude Certificates in B1G1 but maybe you would like to try a different approach and set up an entirely personal email that perfectly blends in with the communication of your business.
Why not connect it with a special holiday in your country or with the birthday of your customer? Many of our members choose that way. Take a look ……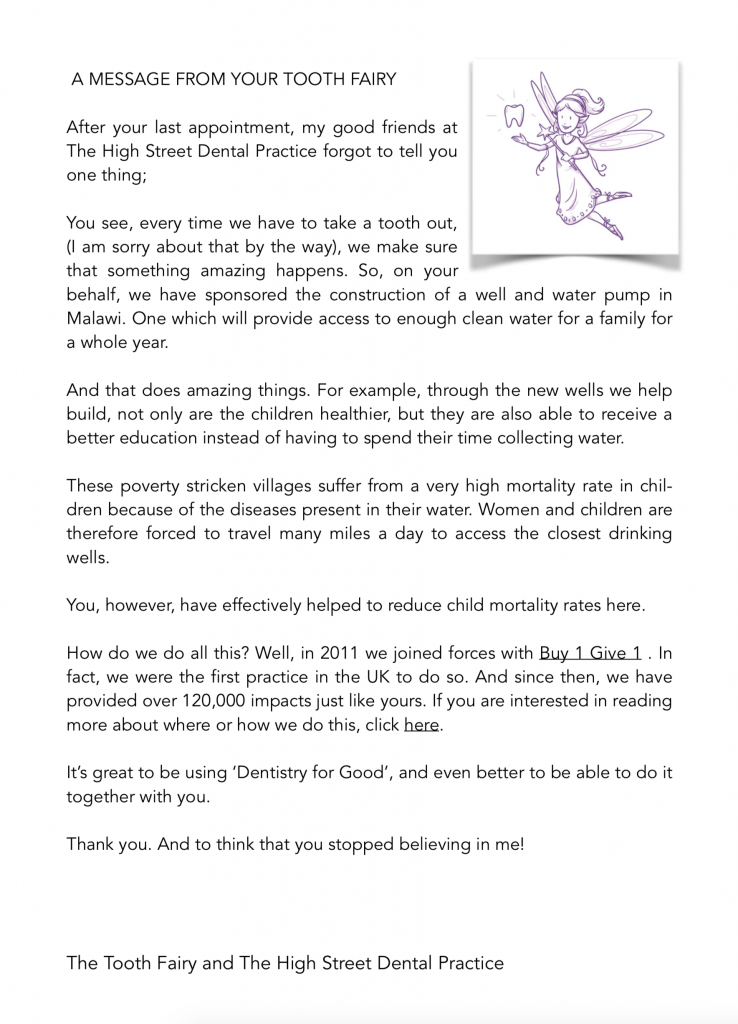 Including Gratitude in another communication
Sometimes, you might feel that you're overwhelming peopl­­­e with gratitude. So you'll be interested to see how some of our members deal with this in a very creative and efficient way – connecting a communication they send with showing how grateful they are. This could be a follow up email after an event or even an invoice. Just check out these lovely examples.
The power of Business Cards
All of us have a stack of business cards in one cupboard or the other — people you've done business with, people you met on events or people you've simply had a great chat with. The moment of exchanging business cards is an important one. So why not use it to let something great happen in the world.
Some of our members printed the B1G1 logo on the back of their business cards together with their mission statement or their vision of giving. Some even choose to combine it with their Giving Story. An example could be that for every business card you receive, a child gets access to a bicycle for one day.
Right away, exchanging business cards is even more important because you share you share the joy of giving. It could even be a great conversation starter and form an instant connection.
Email footer
Email footers are GREAT places (and surprising places too) to express gratitude.
So consider the impact you make by adding one of your Giving Stories to your email footer like this: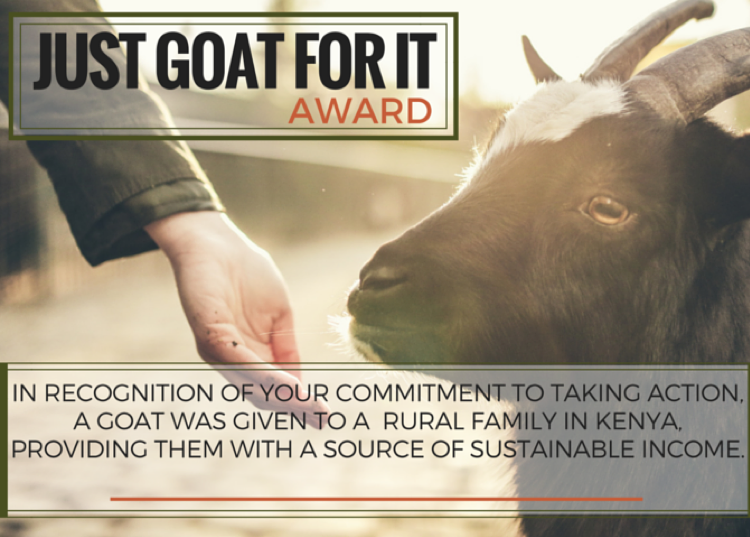 Gratitude Award
"And the winner is…..YOU! Simply because you helped making an impact!" What a powerful message – check out the creative awards below.
I wonder what your award could be called.
Disclaimer/Poster/Banner – you name it
You have a store, a bar, a café, you host events or you attend fairs regularly? Your options are literally limitless.
Just share your joy of giving right at the moment someone supports your giving.
Video message
Nothing forms a more personal connection than telling your customer in person how grateful you are. Now even if you don't have the chance to do so, you always have the option to record a small video message. Simply add this very personal gem to your website or to an email, maybe involve your team – the sky is the limit!
Tagging your products with Gratitude
One simply amazing way of saying thank you comes from a member in the wine retail business. They designed special tags for their wine bottles to thank their customers right the instant they receive their product. Sounds like a win(e) win for everyone.
Personal message on social media
Facebook, LinkedIn, Twitter, Instagram, Snapchat – no matter which social media platform you use to connect with your contacts, why not drop them a short message after they just helped you making a great impact through giving.
Add a picture, a GIF, a small boomerang video or another one of the numerous options to just let the other person know how much appreciate them. Such small gestures can go a long way.
You can even combine your Giving Stories with this approach. For every new LinkedIn connection, something great happens in the world – what a great start of a connection.
We hope you found some inspiration and are now ready for your next challenge!
CHALLENGE: Create your very own Gratitude Certificate – may it be an email, a video or a letter – and share it with us and the B1G1 community either via Facebook or by sending us an email to [email protected]
We're already looking forward to it.
And before we forget, thank you so much for being part of B1G1 and for taking the time to read this blog post.